NordVPN for iOS: Meet The New Features
When it comes to improving the VPN experience for mobile users, the NordVPN development team is restless – in a good way, of course. This time, our app for iOS steals the spotlight. It is the same simple and elegant VPN app for iPhone that more than 5 million people use to protect themselves online. Only now it's packed with even more cool features.
What's in store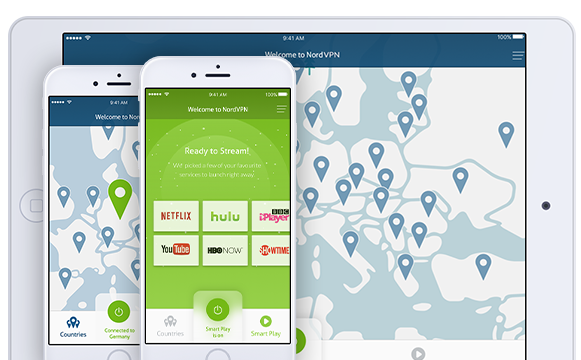 With a focus on security and usability, we've been making the NordVPN app for iOS better and stronger than ever before. Let's take a look at the new features we introduced with the past few releases.
Hey Siri, connect to NordVPN
We used to say NordVPN makes you secure at one tap of a button, but now you don't even need that. The NordVPN app integrates with Shortcuts – Apple's dedicated app for Siri. So just ask Siri nicely: "Hey Siri, where's my online security?" (or keep it casual with "Hey Siri, connect NordVPN", or any other phrase you can think of) and your internet traffic will be encrypted in seconds.
For now, you can set Siri shortcuts for connecting and disconnecting from VPN. More of them are coming in the bright future!
Recent connections in widget: swipe, tap, connect
The NordVPN app widget has been around for a while, letting you connect to VPN right from your iPhone's lock screen. Now you can do even more as we've added shortcuts to your recent connections. A real tap-saver!
Auto-Connect: effortless security on Wi-Fi
Always busy, always on the go – it's easy to forget things when there's a lot of stuff going on. You may know that hackers love public Wi-Fi as much as you do. But do you always remember to connect to VPN before you start enjoying free browsing while sipping your latte? We understand that VPN is hardly on top of your mind. And that's ok! To help you out, we're bringing the VPN Auto-Connect feature to our iOS app.
CyberSec: your shield from malware
Hackers are out of luck – totally. CyberSec arrives to our app for iOS! CyberSec is what we call our advanced security feature that protects your iPhone from sneaky malware.
How does CyberSec work?
If you're about to visit a website that is blacklisted for hosting malware, spyware, stealthy trackers, or other malicious software, CyberSec will block your access. Also, with CyberSec on, your iPhone is protected from participating in DDoS (distributed denial-of-service) attacks. We make sure you never join a botnet zombie army!
The best part? All it takes to enable is just a flip of a switch.
Time to explore
That's it for now – but more exciting things are yet to come! Update your app now to discover new features yourself.