Antivirus vs. VPN: Which One do You Need?
Numerous threats can directly affect our online experience. They all have varying degrees of success, impact, and origins, but we are long past the time in which we could enjoy a somewhat peaceful and secure browsing session. Is there a battle between antivirus vs. VPN? If so, which one would be better for you?
For example, on the one hand, we have computer viruses, Trojan horses, worms, adware, spyware, ransomware, and other types of infections known as malware, made and distributed by malware developers and dangerous because most of them are spread by irresponsible user behavior online.
On the other hand, we have hackers and spying activity. People say information equals power, and that has proven to be true in the last few years, as governments are after every step their citizens take via surveillance, censorship, and content filtering techniques.
Hackers are dangerous cybercriminals that can perform account takeovers (whether they are email accounts, social media, or banking,) scams, identity thefts, a man in the middle attack, and many more activities that make people think twice about connecting to that insecure public Wi-Fi hotspot or downloading that file of an unknown source.
The fact is that we need to increase awareness levels, starting from ourselves and spreading it out on the community, to be more protective, selective, and conscious about what we do, share, listen, watch, and visit online.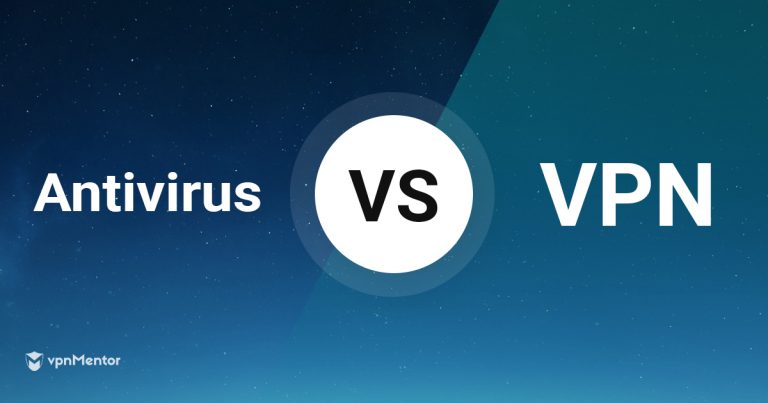 There are two security and protection methods that people can implement to safeguard their assets or online experience. They don't necessarily compete against each other, and rather serve as complements to one another in a dream scenario. One of them is a Virtual Private Network, or VPN, vs. the other one: antivirus software.
Antivirus software
The phrase is self-explanatory: antivirus software is programs that are installed in your computer or device with the intention of tracking, spotting, and eliminating viruses and malware from your system, or at the very least put them on quarantine.
These programs are equipped with the technology to eradicate these threats in almost no time. As it happens with most online services and apps, antivirus software can be found for free and paying a monthly subscription, even annual in some cases. And as it is the case with most things in life, paid options are better, more secure, and more effective than costless ones.
Unfortunately, our current Internet outlook is severely insecure. People not only get infected by downloading a picture, attachment, or clicking a link or pop-up, but the virus gets spreads in their system and can easily access other devices. These malware elements can have varying degrees of impact: some of them may block you from accessing content in your computer while others may erase or infect files and documents and make them impossible to use. Most of them are known for making your system heavy and slow.
Antivirus software is almost a need these days, as they allow people to scan their security situations with due frequency, and if there is an infection, the program can attack it with time.
VPN technology
The word "VPN" actually means "Virtual Private Networks," and they are handy online resources that allow its users to successfully hide and protect their shared data and every relevant detail about their connection from the action of external agents on the web. If you encrypt your content with a VPN app, it will go to remote servers away from those managed by your Internet Service Provider, effectively dodging the action of hackers, cybercriminals, malware developers, crypto miners, government surveillance agencies, advertising companies, content filtering and censorship, and more.
VPN apps encrypt the customer's data and its online identity and location, which come in the form of its IP address. The communication between the user and the VPN server is encrypted in such a way that it can't be understood by any other agent.
The VPN approach uses technologies known as protocols to create a tunnel in which the IP address and other relevant connection details will pass through. Some of the most widely implemented protocols are OpenVPN, L2TP/IPSec, SSTP, IKEv2, Chameleon, and the old and now vulnerable PPTP, the father of the VPN model.
VPNs can offer privacy and protection, but in a different way than antivirus programs: they safeguard your identity and location so that you can use that situation to your advantage. For example, in a public Wi-Fi connection, which is commonly full of hackers, you can gain the ability to browse the web anonymously with a VPN. Another benefit of the technology is the unblocking capabilities that serve as an incentive to millions of streamers around the world to acquire these resources.
Most VPN brands have virtual servers located in specific countries. If you are in a particular nation, let's say Uruguay, and want to watch the American Netflix region, you can connect to a US-based IP address that your VPN provides, and all the American pages, platforms, and services, including Netflix, will be open for access.
VPN apps can come in the form of free services, but you would be better off hiring a premium one. The latter is far more secure, have more servers and countries available, and don't keep logs of your activity, whereas costless versions are slow, dangerous, and have annoying data caps that affect performance.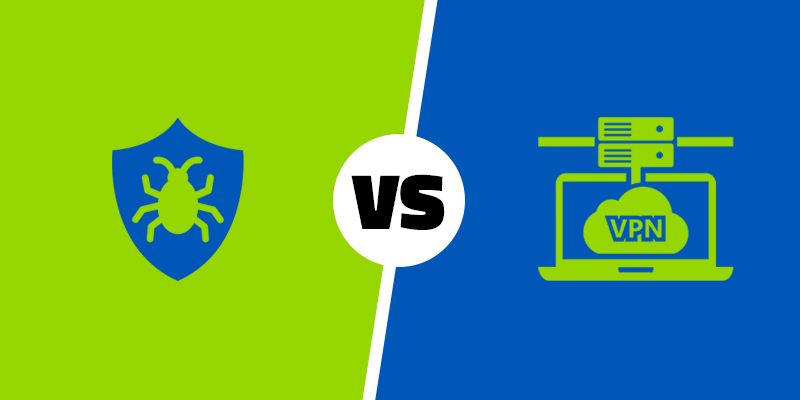 Antivirus vs. VPN: Which one should I choose, then?
It depends. If your computer is slow and unresponsive, or if you clicked some unknown attachment or torrent a lot, you would benefit from having antivirus software because you can run a scan and the system will not only tell you if there is malware but will also work to get rid of it in no time.
On the other hand, if you continuously visit public Wi-Fi connections, or want to stream foreign movies present in pages that are blocked where you live, not to mention avoid governmental censorship, then VPNs are the right tool for you. TorGuard, for example, manages more than 3,000 servers in 55 nations, which means that you can enter pages and services of other areas that would be blocked under normal circumstances.
TorGuard focuses on security and privacy, with a strict no logging policy and features such as DNS leak protection, and a kill switch. However, it does all that (plus implementing the standard, military-grade 256-bit encryption) without sacrificing speed or usability.
In conclusion, the online world has threats coming to you from all angles: if you have problems with any form of malware, consider hiring a top-end antivirus software, but if you want overall security and privacy when you connect to the Internet, then a VPN wins the battle. However, the best and most efficient solution would be implementing both in your system: nothing is stopping you from having the two working simultaneously!